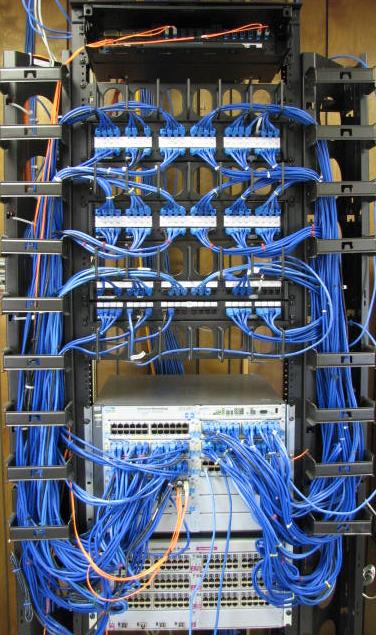 The city of Terre Haute has offices and facilities located in many areas throughout the city from City Hall, to Hulman Links, to the Nature Center at Dobbs Park. Often, these locations were constructed before the advent of computer networks, or in places that make them difficult to internetwork. The challenge for IT is to provide network services at each of these locations and between locations, so city employees can share resources and information. This improves communication throughout the city and allows more cost-effective use of information technology resources.
Connectivity
We employ a variety of WAN (wide area network) technologies to interconnect city services at various locations throughout the city based on the unique nature of each location. This includes ADSL, cable modem, point-to-point microwave, point-to-point fiber optics, and leased fiber optics. Bandwidth ranges from 768Kbps to 10Gbps, depending on the location and the specific broadband technology in use. For locations that do not have a point-to-point connection to our data center at City Hall, secure VLANs (virtual local area networks) are used to allow remote locations to access resources at City Hall across the Internet. Employees can also work from home or from any other remote location with broadband Internet access by using a laptop or personal computer and VPN (virtual private network) client software, available from the IT department.
Locations
The city's network connects people and information and provides access to the Internet at 23 locations throughout Terre Haute.
City Hall
Transportation Utility
Multi Modal Transit Facility
Terre Haute Police Department Headquarters
Drug Task Force Headquarters
Terre Haute Fire Department Headquarters, plus...
- Fire Station 2
- Fire Station 3
- Fire Station 5
- Fire Station 6
- Fire Station 7
- Fire Station 8
- Fire Station 9
- Fire Station 11
  - Fire Training Center
Parks Department, plus...
- Hulman Links Golf Course
- Rea Park Golf Course
- The Torner Center at Deming Park
- The Dobbs Park Nature Center and Native American Museum
Highland Lawn Cemetery
Waste Water Treatment Utility
Parking Garage