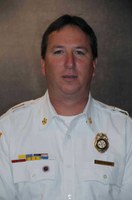 Chief Jeff Fisher joined the Terre Haute Fire Department in 1989. After receiving his EMT certification in 1991, he was assigned to the EMS division. In 2005 he appointed the Public Information Officer for the department, where he remained until his appointment as Fire Chief on February 9, 2008.
In 2000 Chief Fisher was the Exchange Club's Fireman of the Year and in 2003 he received the Indiana Fire Marshall's Meritorious Service Award.
Chief Jeff Fisher and his wife Angel have two children, daughter Heather, son Billy.