NOTICE
If you have received a PARKING VIOLATION that looks like one of the following, PAY PARKING TICKETS ONLY HERE.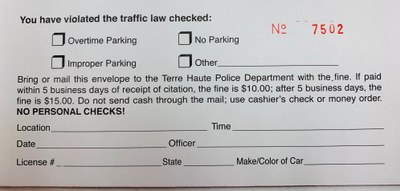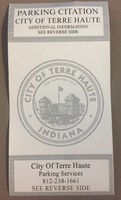 If you have a received a traffic citation similar to the sample photo below, such as speeding or other moving violation, visit the Terre Haute City Clerk page.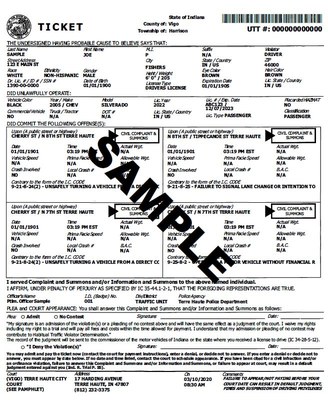 ---
*Once payment has been submitted, you CANNOT change your plea or stop the payment process!
*THERE ARE NO REFUNDS!*
| | |
| --- | --- |
| If penalty sum is paid: | Cost is: |
| within five (5) business days from ticket issue date | $10.00 |
| after five (5) business days from ticket issue date | $15.00 |
 *Parking tickets older than five (5) business days paid without the assessed late fee will be rejected. Please ensure you are paying the correct amount to avoid additional fees. 
  Terre Haute Police Department now accepts credit and debit card payments! Payments can be made with a major credit, debit, or prepaid debit card, including: Parking Tickets and Vehicle Title (VIN) Inspections. You must have the full Parking Ticket number (for parking tickets) or full VIN number (for title check fees) ready at the time of payment, as payments will not be accepted with missing information.
*A service fee is charged by nCourt (the credit card processing company). The fee will be displayed before you finalize your payment. This fee is not collected nor assessed by the Terre Haute Police Department.*