NOTICE
If you have received a parking violation that looks like one of the following...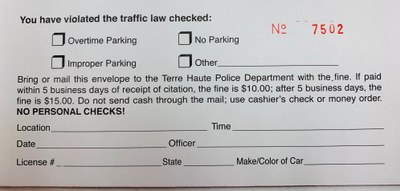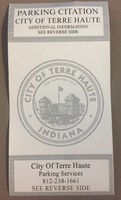 Then please pay here for parking violations.
If your citation DOES NOT look like the images above, or is not a parking violation, please use the following link instead.
Pay for all other violations here.
---
*Once payment has been submitted, you CANNOT change your plea or stop the payment process!
*THERE ARE NO REFUNDS!*
| | |
| --- | --- |
| If penalty sum is paid: | Cost is: |
| within five (5) business days from ticket issue date | $10.00 |
| after five (5) business days from ticket issue date | $15.00 |
Terre Haute Police Department now accepts credit and debit card payments! Payments can be made with a major credit, debit, or prepaid debit card, including:
*A service fee is charged by GovPayNet (the credit card processing company). The fee will be displayed before you finalize your payment. This fee is not collected nor assessed by the Terre Haute Police Department.*
There are three easy ways to make your payment:
Terre Haute Police Department
Records Division
1211 Wabash Avenue
Terre Haute, IN 47807
Monday - Friday 8:00am - 4:00pm
Click here for holiday closings

Payment types accepted at this location will be:

CASH
CASHIER'S CHECK
MONEY ORDER
CREDIT OR DEBIT CARD

*When paying with CREDIT OR DEBIT CARD, a service fee is charged by GovPayNet (the credit card processing company). The fee will be displayed before you finalize your payment. This fee is not collected nor assessed by the Terre Haute Police Department.

To make a payment, you will need the following:

Name of Defendant
Defendant Date of Birth
Telephone Number
Incident/Ticket Number
Payment amount
Pay Location Code: 9089

 

Conveniently make your payment online.

*A service fee is charged by GovPayNet (the credit card processing company). The fee will be displayed before you finalize your payment. This fee is not collected nor assessed by the Terre Haute Police Department.

To make a payment, you will need the following:

Name of Defendant
Defendant Date of Birth
Telephone Number
Incident/Ticket Number
Payment amount 
Pay Location Code: 9089

You may also make your payment by credit or debit card by calling
1-888-604-7888

*A service fee is charged by GovPayNet (the credit card processing company). You will be informed of the fee before you finalize your payment. This fee is not collected nor assessed by the Terre Haute Police Department.

To make a payment, you will need the following:

Name of Defendant
Defendant Date of Birth
Telephone Number
Incident/Ticket Number
Payment amount
Pay Location Code: 9089