The Terre Haute Parks Department has all you need to help make your next birthday party, reception, reunion and meeting a success.  Check us out for rental of Outdoor Shelters, Indoor Pavilions, the Deming Park Pool, the Spirit of Terre Haute Train, Hay Wagon Rides, and Sports Facilities. 
City of Terre Haute Parks and Recreation Reservation Guide  
Main Office: 1110 Girl Scout Lane (Fairbanks Park) 
Terre Haute, IN  47808

 812-232-2727 
You must call or come into the Main Park Office to make a reservation if you fall under any of the following categories: 
1. 501(c)(3) not for profit organization 
2. Vigo County School Corporation 
3. Girl Scouts and Boy Scouts 
4. Full time City of Terre Haute employee 
5. You are redeeming a credit or gift certificate 
We do have picnic tables and trash totes for rent.  You  must call or come into the Main Park Office to rent these items:
1. Tables: $10.00 per table if picked up (proof of liability insurance required)

2. Tables: $30.00 per table if delivered
3. Trash Totes: $20.00 for 10 
Special Events:
The City of Terre Haute has several different Small and Large event venues you may reserve, including an Amphitheater, Trails, Pavilions, and even entire parks.  If you are scheduling a special event, you must call or come into the Main Park Office.  Your reservation falls under the Special Event Category if: 
1. The public is invited

2. It is a not for profit fundraiser

3. You are reserving a Neighborhood Park

4. You are reserving the Amphitheater in Fairbanks Park

5. You are reserving the Larrison Pavilion in Deming Park

6. You are reserving Memorial Stadium Grounds

7. You are using the Trail system for a organized run

8. You are reserving an entire Park

9. You are planning to bring in Bounce Houses, Tents, etc. 
All other SHELTER RESERVATIONS may be made by clicking on the Terre Haute Parks Department Shelter Reservation Portal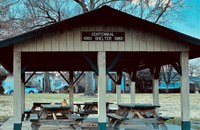 For pool, train, hay wagon & field rentals call the Torner Community Center in Deming Park at 812-232-0147.