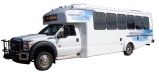 TERRE HAUTE CITY BUS
The Mission of the Terre Haute City Bus is to provide transportation of the highest quality for those persons living within our jurisdiction. We will provide a safe and reliable transportation service that will focus on the needs of the customer. Terre Haute Transit strives to enhance the quality of life for all people within the community. See where we go!
Take our City Bus Rider Survey and tell us how we're doing!
In addition to our regular bus service, we now have available WHEELS TO THE WORLD buses. These buses are used for ADA passengers and are available during the same hours as the regular fixed route buses. ADA APPOINTMENTS - CALL FOR NEXT DAY SERVICE.
Passengers with disabilities may request modifications to current service procedures in order to access the service.  To make a request, ask questions or to receive a copy of the modification policy, please call us at 812-235-0109.  Please submit requests at least the day before the trip.
EFFECTIVE OCTOBER 17, 2022 NEW HOURS
        All day fixed and ADA routes run from 6:00 a.m. until 6:00 p.m. Mon. - Sat.
        All night fixed and ADA routes run from 6:00 p.m. until 10:00 p.m. Mon. - Sat.
        Ivy Tech CampusTransit runs Monday-Thursday from 7:35 a.m. until 5:19 p.m.

        ISU CAMPUS BUS MONDAY-FRIDAY FROM 7:15 A.M. UNTIL 10:35 P.M.
FARES
 Regular

 ADA Fare

   $1.75

    $2.25

 Children under 5
   FREE! (Must be accompanied by an adult)
 Senior Citizens/ Disabled/Medicare
 Holder, & Veterans (ID Required)  


85 cents
 
 

 14-Ride Pass

  14- ADA Ride Pass

   $21.00 (available from driver or at the Transit Office)

   $27.00  (available from driver or at the Transit Office)  

 31-Day Pass

   $45.00 (Unlimited rides for 31 days from the activation
   date.) Available at the Transit Office at the new Multi-Modal 
   Parking Garage.        
NO SUNDAY SERVICE
Exact fare is required on all Transit Vehicles.
Contact Information:
Terre Haute Transit
901 S. 14th Street
Terre Haute, IN 47807
Phone: (812) 235-0109      
Fax: (812) 232-3533
Email: [email protected]
Business Office open Monday thru Friday from 8 a.m. to 4 p.m. Closed Saturday & Sunday.