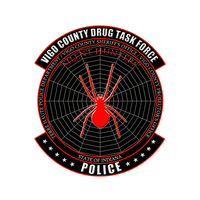 VIGO COUNTY DRUG TASK FORCE
The Vigo County Drug Task Force is a narcotics unit composed of detectives from the Terre Haute Police Department and Vigo County Sheriff's Office, with assistance from the Vigo County Prosecutor's Office. The Drug Task Force is responsible for narcotics investigations within the City of Terre Haute and throughout Vigo County, including investigations involving clandestine methamphetamine labs, marijuana grow operations, prescription drug diversion and street level narcotics. The Drug Task Force also assists other community agencies by providing informational programs such as Meth Lab Recognition seminars.
If you have tips or information that you would like to pass along to the Drug Task Force, please contact us at the phone numbers or email listed below. All tips are considered confidential and you may remain anonymous when providing information. If you would like to have a detective contact you, please include a telephone number or email address where you may be reached.
General Information: 812-244-2590
Fax: 812-244-2591
Email: [email protected]
DRUG REHABILITATION INFORMATION

Drug and alcohol use is a prevalent factor in crimes committed in the United States. DrugRehab.com seeks to educate the public on the dangers of substance abuse by providing information to people and their families about how to handle substance dependence.